REGISTRATION BOSLAB THEATRE FESTIVAL 2023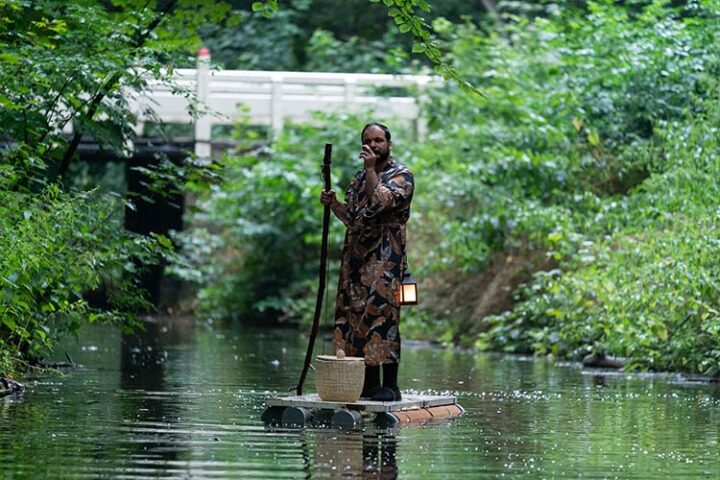 THE AMSTERDAMSE BOSTHEATER IS LOOKING FOR QUIRKY, INSPIRED, NEW MAKERS
BOSLAB is the new makers´ laboratory of the Amsterdamse Bostheater. The Boslab Theatre Festival takes place every summer. For 10 days, performances created by new makers are shown at exciting, unexpected locations in and around the open air theatre of the Amsterdamse Bos. Boslab is both a festival and meeting place of, and for new makers (and for an audience that wants to be stimulated and dares to venture off the beaten track). A laboratory for development, research, training, deepening and creating new work.
The Boslab Theatre Festival does not program, it selects and supports productions developed especially for this festival as well as new renditions of existing productions made elsewhere that are ready to take their next step in the forest.
WHO ARE WE LOOKING FOR?
Boslab is looking for new makers of all disciplines who explicitly relate to working on location, in our case the forest. Makers who link an engagement with the world of today to an open view of the past. Makers who relate to the rich repertoire of literature, visual arts, (playing) styles, dance, design, music and oral and written history.
Basically, only professionally trained makers, performers and starting collectives who have followed and completed a professional (art) training are eligible. Students can submit an application as of the final year of their study. Boslab is a festival for new makers. As a rule, you will have graduated not longer than five to six years ago.
WHAT ARE WE CURIOUS ABOUT?
What is your definition of makership? What kind of maker are you? What are you curious about? What is it you want to develop and what role does theatre on location play in your artistic quest? What is your question, your theme, your substantive fascination? What are the disciplines you work with and/or base your work upon? Which sources do you want to investigate? Who do you want to work with, and how? Why at Boslab? What is the role of the audience? How do you want to show your work? Can you already make a sketch of what the audience will get to see?
WHAT DO WE HAVE TO OFFER?
Boslab supervises the content of the projects, advises on setting up the production, marketing and publicity and offers technical support.
Makers and players receive a fee for rehearsals and a daily allowance for the duration of the playing period. A small budget for materials is also available. If necessary, we will help you to apply for funding elsewhere and show you the way in the fund landscape.
Basically, festival performances last thirty minutes. In all, you will play one performance a day for ten days, preceded by a final rehearsal with an invited audience.
WHAT IS THE PROCEDURE?
The first step is to submit your application by 7 November 2022.
At the bottom of the page, you will find one button for the vision of Boslab (read it carefully) and another button to submit the application. Motivate your application and use our guidelines to write your own story. Take care not to answer the questions indiscriminately. We then make an initial selection of the applications sent in. Selected makers will be invited for an interview at the end of November/beginning of December and/or for an introduction on location in the weekend of 3 and 4 December 2022. We may ask you to further explain your plans in writing.
Our final selection will be announced mid-December.
Download the substantive vision of Boslab here.
Download the application form here.
DATES
7 November 2022: deadline for submitting your application
24 November 2022: results selection 1st round
From 25 November 2022: conversations with the makers (by appointment)
3 and 4 December 2022: introduction in the forest
Mid-December 2022: final selection
Between mid-July and the end of August: Boslab Theatre Festival 2023 runs for two weeks. Dates to be announced soon.
In consultation with the production manager of the Bostheater, selected makers can further develop their concept in the period running from the final selection to the start of the festival. They can plan rehearsals of their performance in the forest, regular programming permitting.
SUBMIT BOSLAB APPLICATION
Substantive vision of Boslab
Back to Boslab